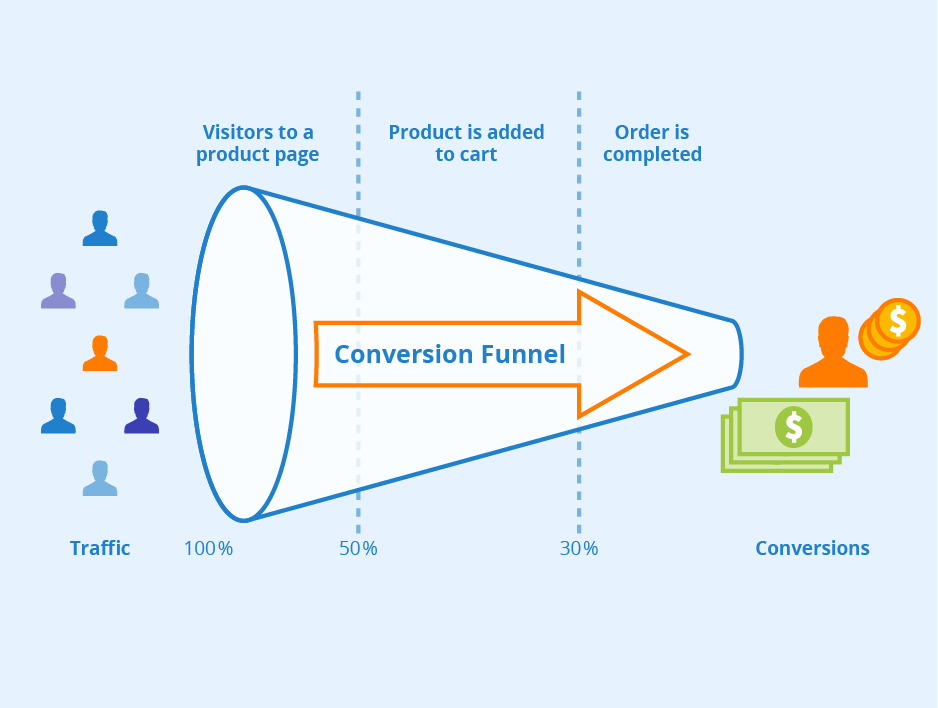 Each of the sales funnels is designed to engage a user with the appropriate information. It helps a user to move across a website in search of a particular product/service. For website owner point of view, it helps to determine a user interest, behavior and future planning.
Just think of it, if you get to know from which webpage your user is bouncing back and till how much time they are getting engaged with your product/service. With this data, you can build a workable sales funnel that will drive more profits.
What is a Sales Funnel?
A Sales Funnel can be said as a Lead Generation tool, which drives traffic from a landing page to the payment gateway page. It normally involves 3 step process. For this example, we will take an online course website.
So the step will normally be like:
i) Landing page.
ii) Signup Form
iii) Payment Gateway.
i) Landing page: A landing page is a webpage where a user will get all the necessary information regarding the course. It includes details like Benefits, Importance, Duration and one can also mention FAQs. This page should be interesting by which a user gets excited and pay for the course immediately.
ii) Signup form: Here interested users will fill in their details to sign up for the course. This is required to send a user course material via Email or WhatsApp. Many a time people can Sign up and can log in to that particular website to access the course.
iii) Payment Gateway: After successfully filling all the required details a user will be redirected to the payment gateway page where they can pay for the course and get enrolled.
How to build a profitable sales funnel?
To create a profitable sales funnel one need to understand market trends, customer preferences and most importantly pricing. If any of the single elements is not determined with a detailed study then there are chances that the sales funnel will turn into a flop funnel.
A) Things to include in a Landing page:
An interesting landing page can make a user convinced to buy your product/service. It should include reliability, authenticity and an offer that may end after a certain time. Go for a countdown timer to bring the excitement into your page. Show some testimonials. And include buy now button in the necessary sections. It is advisable to use 2-3 buy now buttons in a landing page depending upon the content size.
B) Things to keep in mind while creating a Signup Form:
A signup form should be easy that a user can quickly fill there details and move to the payment option. Use only the important fields that are required for your business. It can only be Name, email and Phone Number. Later, after getting them through the payment process you may send them a registration form wherein they can register themselves for an online course with username and password field.
C) Things to keep in mind while creating a Payment Gateway:
You cannot determine a successful lead till the payment has been done successfully. There is a continuous chance of a bounce back until a user gets through the payment process. To make sure that a user does not bounce back from the payment gateway you need to keep two things in mind:
Include all types of payment options based on the country you reside in. Check for the most common payment method used in your country and make sure to include that in your payment gateway.
Make sure that after Signning up a user gets redirected to the payment gateway. There shouldn't be much delay to get the payment screen appear.
Conclusion: A sales funnel can be tricky to use. You may waste your money in creating and marketing your product/service if your sales funnel doesn't excite people. You can hire a professional digital marketer that can pull the statistics of the market trend and individual preferences. A professional digital marketer can also determine from which particular page a user is bouncing back or whether a user has returned from a payment gateway. This could widely help in determining a perfect sales funnel.