SEO tools are helpful to evaluate website data. Having said that, you may find many tools some are free while some are paid. We have created the most preferred Free SEO tools that are accurate in pulling off the stats. To have SEO tools doesn't mean that you will get your website ranked on Google. It requires an in-depth study and appropriate modification to your site.
The best approach to get rank is to do an SEO audit of your competitor and make your website SEO score better than your competitor. To have a correct method of evaluating and implementing the strategy is a key to get ranked on Google.
Following are the Top 5 Free SEO Tools that you should use in 2020:
1) GTMetrix: There is no doubt that users, as well as Google, prefers those sites whose webpage speed is fast i.e under 3 seconds. If your webpage speed is slow and takes more than 5 seconds to load than there are chances that a user will select an alternative site. With GTMetrix, you can see how much is your website speed and what all are the errors that you can rectify to get the optimal speed.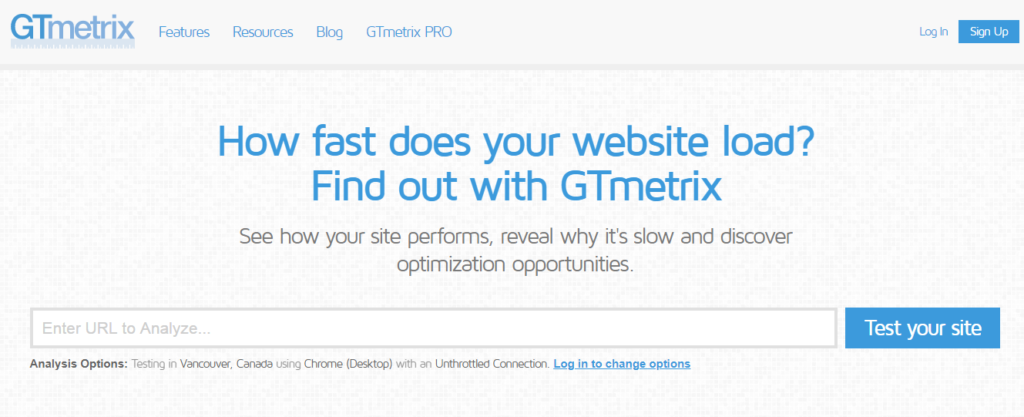 2) SEOptimer: This tool helps to do a free SEO Audit. It is divided into 5 parameters viz: SEO, Usability, Performance, Social and Security. This can help a newbie to understand how its website is working and what all parameter needs improvement. As it is a free tool, you need to cross verify the report manually in your database. You also get recommendations at the bottom side with a priority list, so the one which is in High Priority should be resolved first for best performance.
3) Ubersuggest: It is important to know what people are searching for and if that is related to your business then you need to implement those particular keywords. For this Ubersuggest is used, it is a free keyword generator tool that can search your business related keywords. This tool will provide you with a bunch of keywords and you can decide which keyword seems to be more user-friendly.
4) Google Trends: This tool is used to compare a different set of keywords. While doing SEO, you need to make sure which keyword is ranking higher than other. Once you discover keywords for your business, it is important to understand the keyword strength as one shouldn't use all the keywords at a go. Google trends have different filters to choose from viz: Country, Timeframe, Category and Search Preference. This could be the actual game changer as Google ranking is highly depended on the right set of keywords.
5) SEOQuake: SEOQuake is a powerful web browser extension. This free tool helps to understand your competitor's website data like Backlinks, Top Keywords they are using, Basic SEO Audit etc. It also allows you to export the report so that you can work against your competitor. You will also find website ranking that can help you understand your competitor's current position.
Conclusion: SEO is a continuous process as you are trying to rank your site, someone else would also be doing the same. So it is important to keep an eye on your competitors and keep improving your website. Also, it is important to understand that you follow only white-hat techniques to gain the ranking else your website might get penalised or banned from Google.